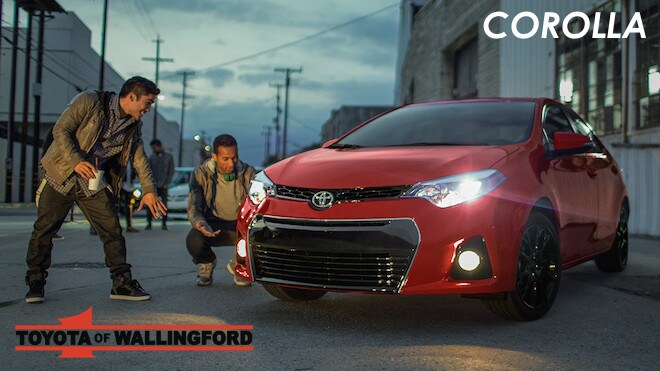 The Toyota Corolla is an economical choice that keeps our New Haven, CT customers connected to the outside world. Let us show you the Corolla today.
Whether you need an affordable sedan as your daily driver or you want to surprise your teen with a new car that will keep them safe, the Toyota Corolla is a great choice. It offers a low price tag and great fuel economy that will save you more money to spend on a rainy day. Let Toyota of Wallingford be your guide and give you a personal tour of the Corolla today.   
Stay Connected On The Road
Ever feel like you have been disconnected from your world? With all the amazing features in your new 2016 Toyota Corolla, those days are behind you. With the dynamic performance and style, paired with amazing comfort and convenience features, you are about to get a new appreciation for the open road. Take in your surroundings while cruising the New Haven, CT area in the beautiful, meticulously crafted Corolla interior. At Toyota of Wallingford, we look forward to sharing with you all the amazing features in the new Corolla.  With our great selection of new and pre-owned models available to you, there's no doubt that you'll drive away in the affordable, compact car you've been searching for. 


Everything You Need In One Package
Total convenience is neatly packed into your new
Toyota Corolla
. Many wonderful memory features give you the ability to set and forget, taking your drive to a new high in comfort. When you approach your Corolla with the available Smart Key fob in your pocket or purse, you can unlock doors and start your car with just the push of a button. There's no need to worry about fumbling in your pocket or purse, just walk up, grab the door handle, climb in and get going. With automatic climate control you can select your preferred temp by using the digital controls, and Corolla will always keep your cabin feeling like home. The customizable, and informative Multi-Informational Display, is conveniently located right in the center of your instrument panel delivering you the real-time info in a pinch without directing your eyes from what's in front of you.   
Your Toyota Store
With a number of convenience driven elements expertly designed in the 2016 Corolla, you'll wonder why you didn't stop in with us at Toyota of Wallingford to claim yours sooner.  With our dedicated Toyota product specialists and our expert finance team we can assure you an exciting shopping experience without all the hassles and haggling, and secure you an auto loan with the payments you desire. Start your research online through our user-friendly website. Give us a call today at (888) 927-7559 to set up your test drive and browse our current Corolla selection before you get here and let us know what catches your eye so we can have your favorite trim and color sitting up front for when you get here.  Like Corolla, convenience is what we aim for when shopping with us, so give us a call today to find out what we can do for you.