Dealer DOINGS - Toyota of Wallingford

Monster Trucks Make Mammoth Impact


The Tundra Monster Truck towered over Dalton Salyer.  But after dealer Steve Zion helped him climb the stairs to the passenger seat, the little boy beamed as the truck sped around the racetrack.
Since his first ride three years ago, the autistic 7-year-old has been a regular at the annual monster truck rides at Bristol Motor Speedway in Tennessee. 
"I sent him a card before our last event," Zion says.  "He slept with that card under his pillow until the day he could see me again and get back in that truck."
Dalton's devotion mean a lot to Zion, dealer principal of Toyota of Wallingford in Connecticut.  After all, his goal is to help children escape the limitations of autism, multiple sclerosis, Down syndrome and other disorders.  The dealership's three Tundra Monster Trucks travel through several states, doing just that.
"We go to a place where there's sadness and put a little sunshine on it," Zion says.
He began using trucks to brighten lives after bringing a monster to a promotional event in 1990.  "All I could was a Chevy, and I never wanted to do that again," he says.  "I decided to make our own Toyota Monster Trucks and put seats in the back.  Toyota never had a truck like that."
After the Sandy Hook Elementary School tragedy, the dealership wrapped a monster Tundra in the school's colors and places 26 stars on the tailgate to honor each shooting victim.  The memorial truck recently visited nearby Newtown to give rides to students and their families for more than five hours.
"There was nothing but enjoyment and laughter," Zion says.
In November, the dealership cleared out its used car lot for its annual Tundra Monster Truck derby.  "We gave rides and smashed cars," he says.
The cars came from customers who'd traded in other makes for Toyotas.
"The event is something people remember," Zion says.  "We want to leave an impression so when they're ready to buy a car, they'll know where to come."  But more importantly, he wants to leave an impression on kids like Dalton.
"When a child with autism or Down syndrome smiles, we feel like we've hit the lottery," Zion says.  "That's our million-dollar paycheck for the day."
---
Toyota of Wallingford is honored to be part of this special Thrasher, Toyota Tundra Monster Truck. We are proud to share the tailgate with the 26 stars in memory of the victims of the Sandy Hook tragedy. Thrasher's vinyl wrap and graphics sponsor Comp-Cal in Denver, NC presented an idea to honor the 20 children and 6 staff members of the Sandy Hook Elementary School tragedy by wrapping Thrasher in the school colors.

With an overwhelming response by Thrasher's Connecticut Fans the truck was wrapped green with the 26 Stars on the tailgate and debuted in Monster Jam on January 11, 2013 at Time Warner Cable Arena in Charlotte, NC. To commemorate this Memorial Scheme, Thrasher Monster Truck Racing Team, Pat Summa, Toyota of Wallingford, and Comp-Cal have teamed up to have t-shirts created for the fans. The original Sandy Hook Elementary Memorial Thrasher body was destroyed in Wheelie Competition while Pat Summa took the win in Charlotte the night of January 12, 2013. With another overwhelming response a Sandy Hook Elementary Memorial Thrasher #2 body will be in competition for the Hartford, CT Monster Jam Show on February 9th and 10th in Hartford, CT.
Show your support of the Newtown, CT community and Thrasher by purchasing one of these shirts, these will be available for a limited time.
Proceeds from every shirt sold will be donated to a Sandy Hook Elementary School Scholarship fund, as of 01/18/2013 we will be donating to Chase Kowalski Scholarship Fund, c/o People's Bank.
Click Here To Order Your T-Shirt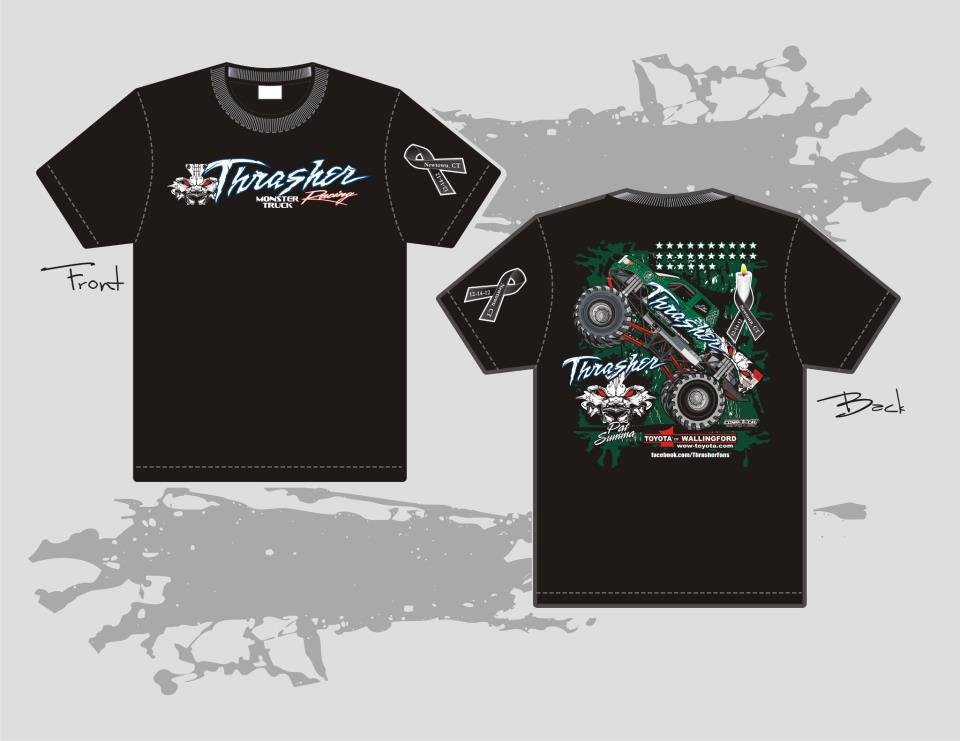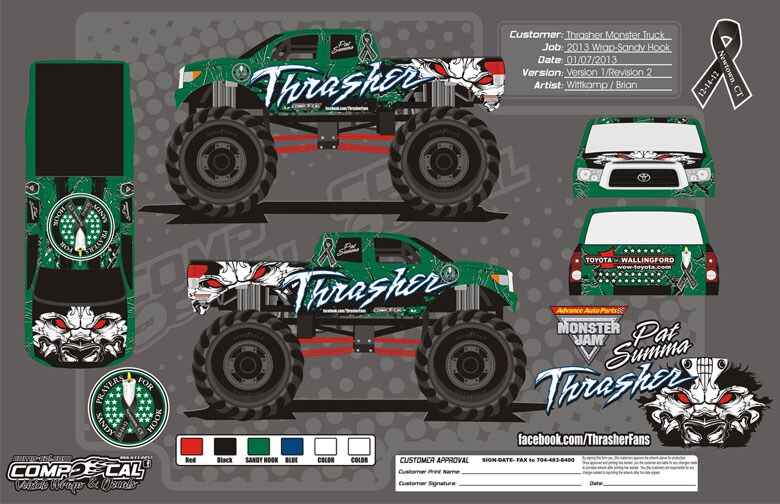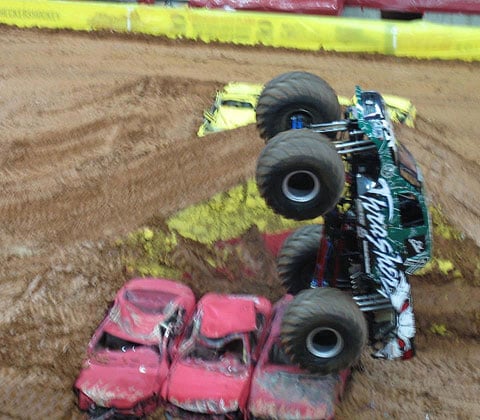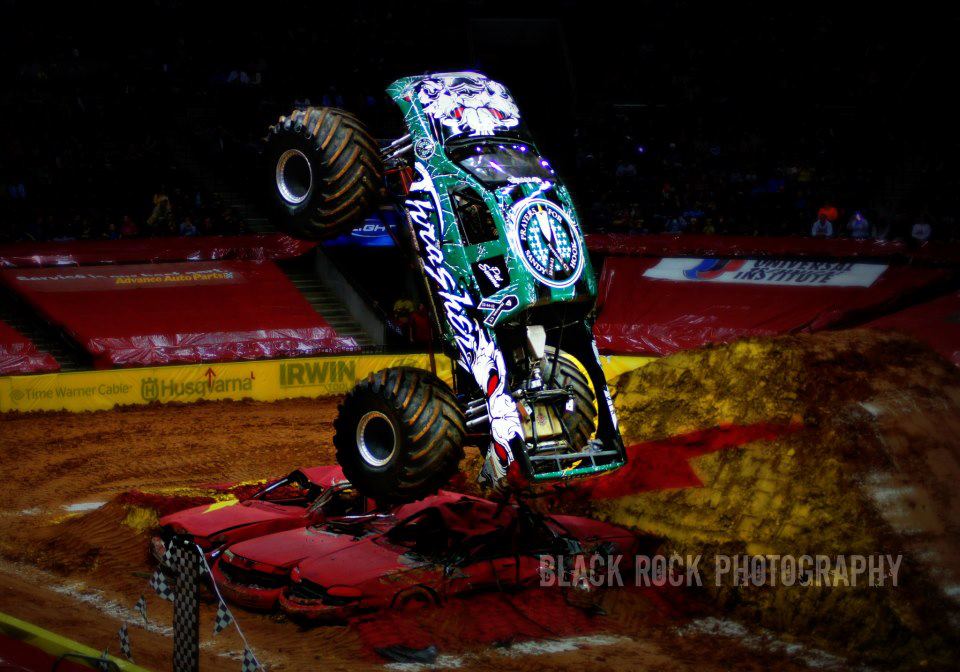 Photos courtesy of Black Rock Photography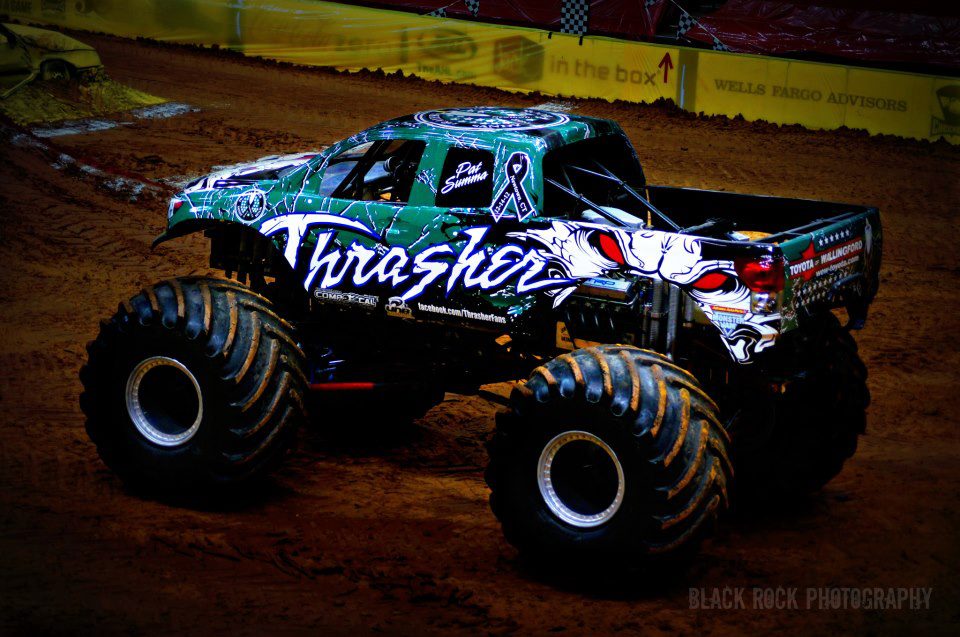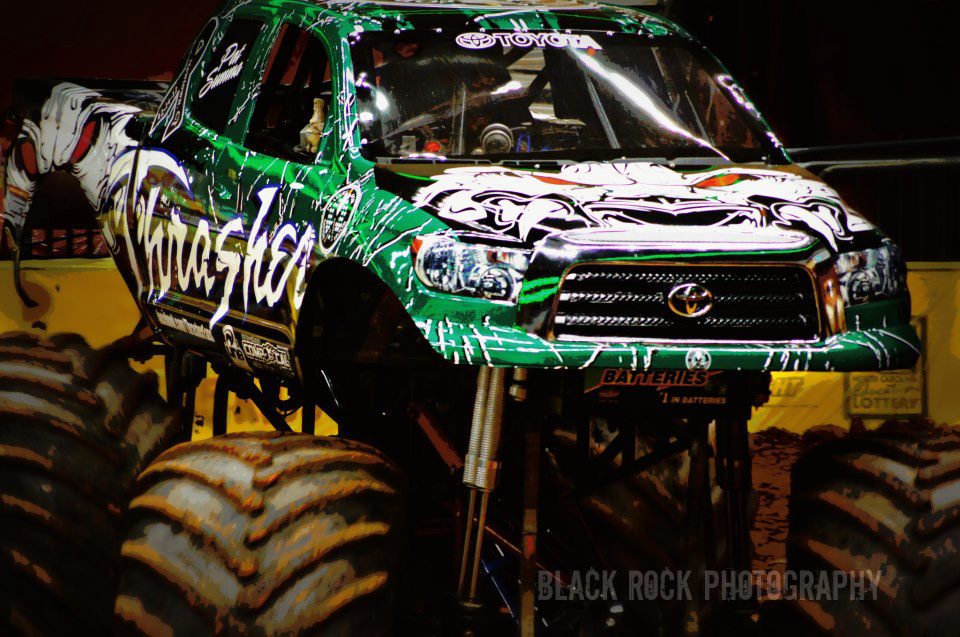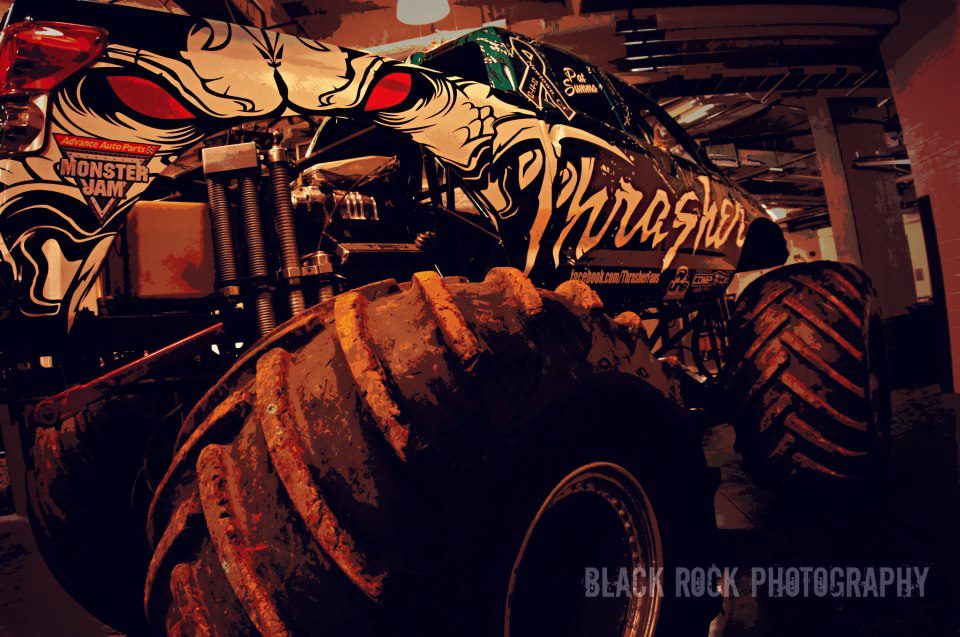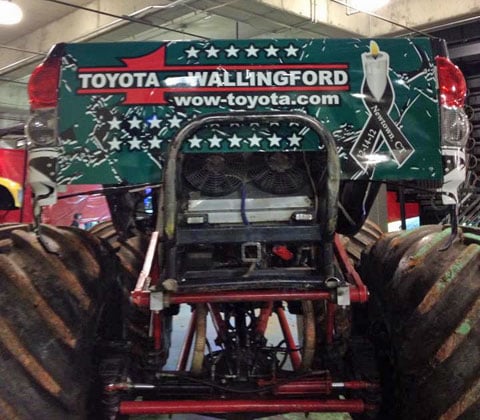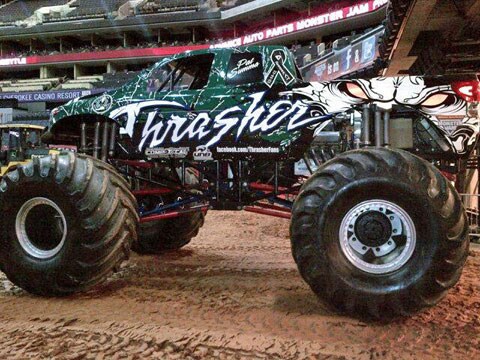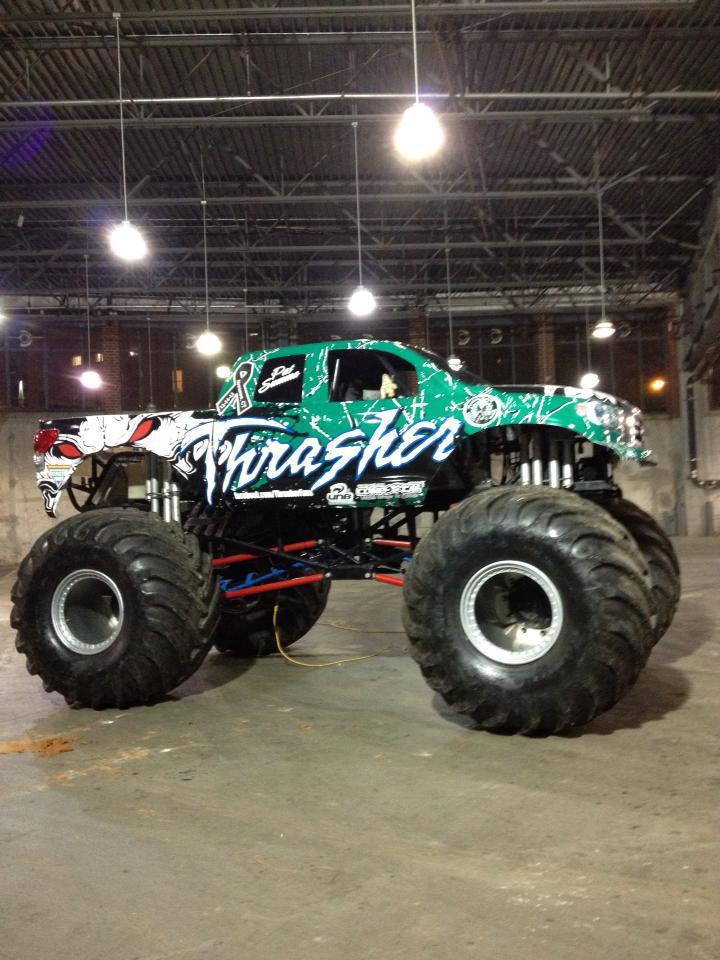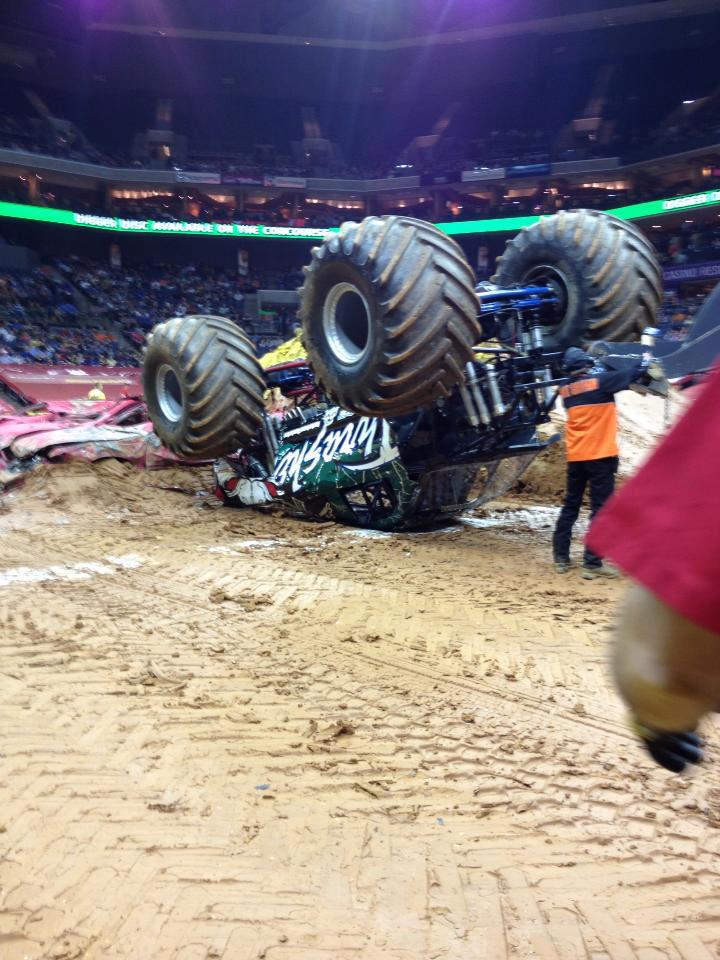 Pat won the the wheelie contest but the body was heavily damaged in the roll over.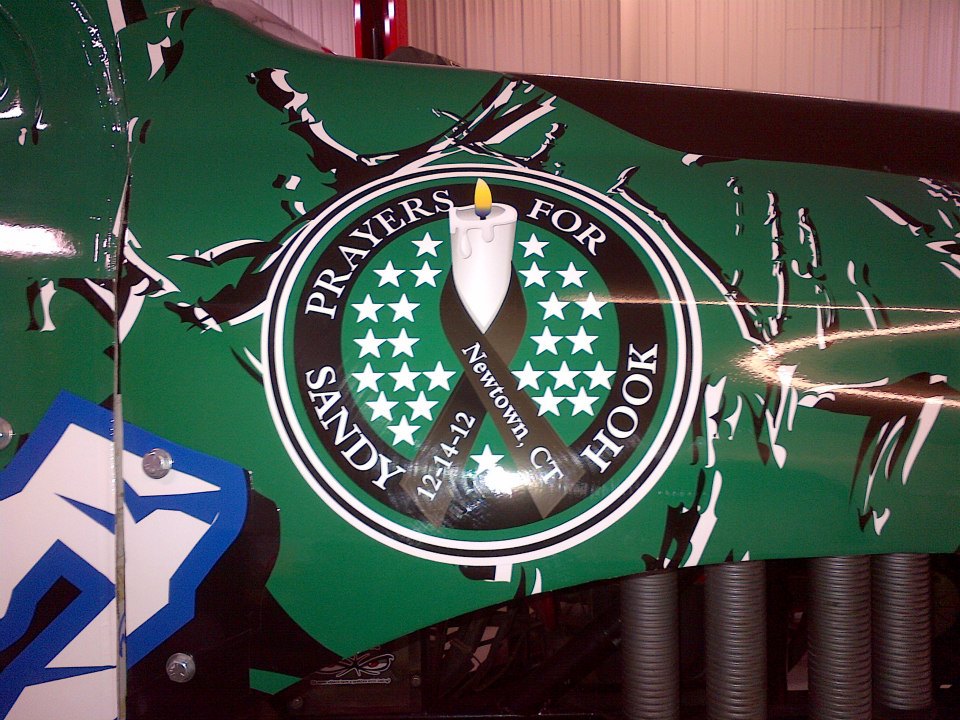 https://www.facebook.com/thrasherfans
Order your Thrasher gear including the Sandy Hook Memorial Shirts at
http://www.comp-cal.net/thrashermt.html