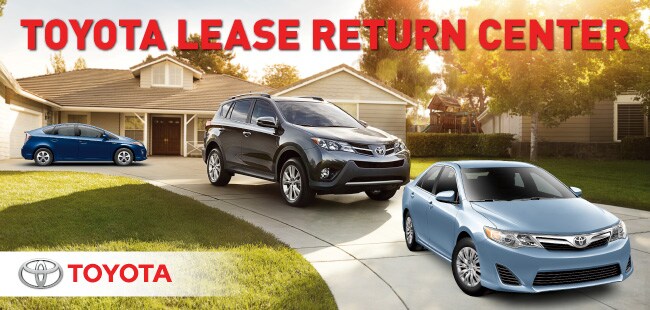 Do you have a Toyota, Lexus, or Scion Lease?
No matter where you originally leased your Toyota, Scion, or Lexus if you are making payments to Toyota Financial, you can return your vehicle to Toyota of Wallingford at your lease-end!

Whether you plan to explore your next Toyota model or purchase your current leased Toyota, Toyota of Wallingford is here to make the process as easy as 1, 2, 3...! We have the inventory to get you on your way quickly.
Been eyeing the neighbor's brand new Toyota? Have circumstances changed and you now need a bigger (or smaller!) vehicle? Or perhaps you've really enjoyed your current Toyota and want to keep it.
Regardless of what's driving you, take comfort in knowing there are options available to ensure that you continue to love what you drive.
Contact Toyota of Wallingford at 203-284-5494 and ask for CJ Marella, Lease Return Specialist for a consultation regarding your lease-end options.
OPTION 1:
Lease or Buy a New Toyota
Get a new vehicle. You simply turn your leased car in. All you are responsible for are the things you can control, condition, and excess miles. For being a loyal returning customer Toyota Financial waives the $350.00 disposition fee.

OPTION 2:
Trade Your Current Lease
If the market changes, you may have unexpected equity in the lease based on the cars value. You then have the option to trade the vehicle in and use the equity toward the lease or purchase of a new vehicle from us. The nice thing is that you will know what end of lease buyout is from day one of purchase because the residual value at the end is guaranteed by the bank and written on your lease contract. Contact CJ Marella at 203-284-5494 to schedule an appointment for an appraisal and see if you are in an equity situation on your lease.

OPTION 3:
Buy Your Current Lease
If you really love the Toyota you lease you can always buy the vehicle out at any time. We have several financing options for you when it comes to buying out your current lease. Contact us for details.